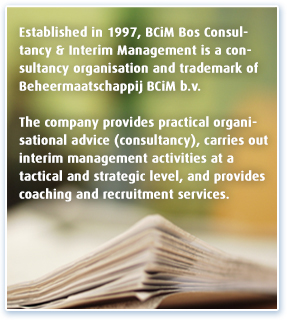 BCiM mission statement:


BCiM provides creative, customer and result-oriented management capacity and advice at an operational, tactical and strategic level.



Our vision:


BCiM strives to provide high-quality solutions efficiently and effectively and to optimally live up to customers' expectations within the Interim Management sector.



BCiM's strategic plan:


Our mission and vision will be achieved by supporting and coaching facility organisations so as to further professionalise the Facility Management sector.

BCiM's area of expertise is general and technical services.

Almost all aspects of the services that support an organisation's primary process can be assessed for market conformity and evaluated for efficiency by BCiM. Moreover, BCiM can support and coach general and technical services organisations in order to increase the level of professionalism of general and technical services.






The services of BCiM are available in the event of a (temporary) staff shortage at management level or if the organisation lacks the required know-how.

BCiM's strengths also include drawing up and implementing practical Procedures and Work Instructions (in accordance with ISO 2000 standards).

A BCiM report is no weighty tome, but describes, in a concise and persuasive manner, possibilities for improvement that can be put into practice immediately.

BCiM was founded by Alexander P. Bos. He has practical experience in the field of general and technical services, education and training and political and document-based information management. He was also a committee member of the professional association Facility Management Netherlands (FMN), providing BCiM with an extensive network of business relations, knowledge and experience.

Every organisation is different. That is why we do not have a standard price list. Offers are tailor-made to suit your requirements.